Electrical Direct | Supporting Customers
SERVICE & UX DESIGN
The challenge
To identify and understand the issues that Electricians have in their day-to-day life, and identify solutions to these problems.
An Online Wholesaler, named Ironmongery Direct, has recently launched a new electrical e-commerce business selling specialist products to tradesmen; Electrical Direct. The new brand was merely a "copy and paste" job of their ironmongery website and, as a result, the service did not meet the needs of their target customer. With initial targets not being met, senior stakeholders came to Spotless with a explorative research and design brief to help discover where they were going wrong.
AGENCY:
SPOTLESS
TEAM CREDITS:
HANNAH STEELE, RICHIE KENNEDY, DANNY WESTOn, erin PEACE & Andre van heerden
MY ROLE:
PROJECT LEAD (SERVICE & UX DESIGN)
TIME: NOV '17 - JAN '18
Discovery
An in-depth service discovery spanning across multiple touchpoints and target customer engagement
We started the project by conducting a trend and competitor analysis to understand what the market was like. In terms of social trends, it was clear that people were getting used to digital services and subscription services. In terms of competitors, we found out that no one was offering a good e-commerce selling specialist products for electricians. Some might have been selling the products but the digital experience was either non-existent or very poor.
Therefore, we initially thought the opportunity was to build upon and create a multi-channel digital e-commerce platform. However, we wanted to ensure that's what electricians wanted by conducting a deep dive discovery, so we planned and conducted a "service safari" alongside a thorough longitudinal engagement with different electricians across the UK.
Research deliverables
Electrician Personas ,"Job-in-the life" Journey Map, E-Commerce Trends Report & Touchpoint Usability Report
Myself and my colleague conducted and synthesised all the research into a series of deliverables aimed to help our client understand their user's day-to-day and to help them embed this knowledge across different parts of the business. We focussed on three user groups; the one-man bands, young apprentices/journeymen and co-ordinators in charge of electrician teams. Some of the most interesting insights were;
Their days are unpredictable and therefore their products needs were hard to predict/plan

It was tricky to run a one-man band and juggle client relationships
They feared becoming irrelevant in the age of IoT and the smart home
This fear of being irrelevant was a real moment of truth for the team. As we unpicked this insight and went deeper into understanding their behaviours, it became apparent that electricians would choose to buy their products in-store instead of online, not only because their product needs were immediate and unpredictable, but because these store were a big part of their community where they could share knowledge, ask for advice and create tradesmen "gangs" to help the self-employed take on bigger more complex jobs. Our initial challenge had totally changed and we now knew that we needed to redesign Electrical Direct's existing offering.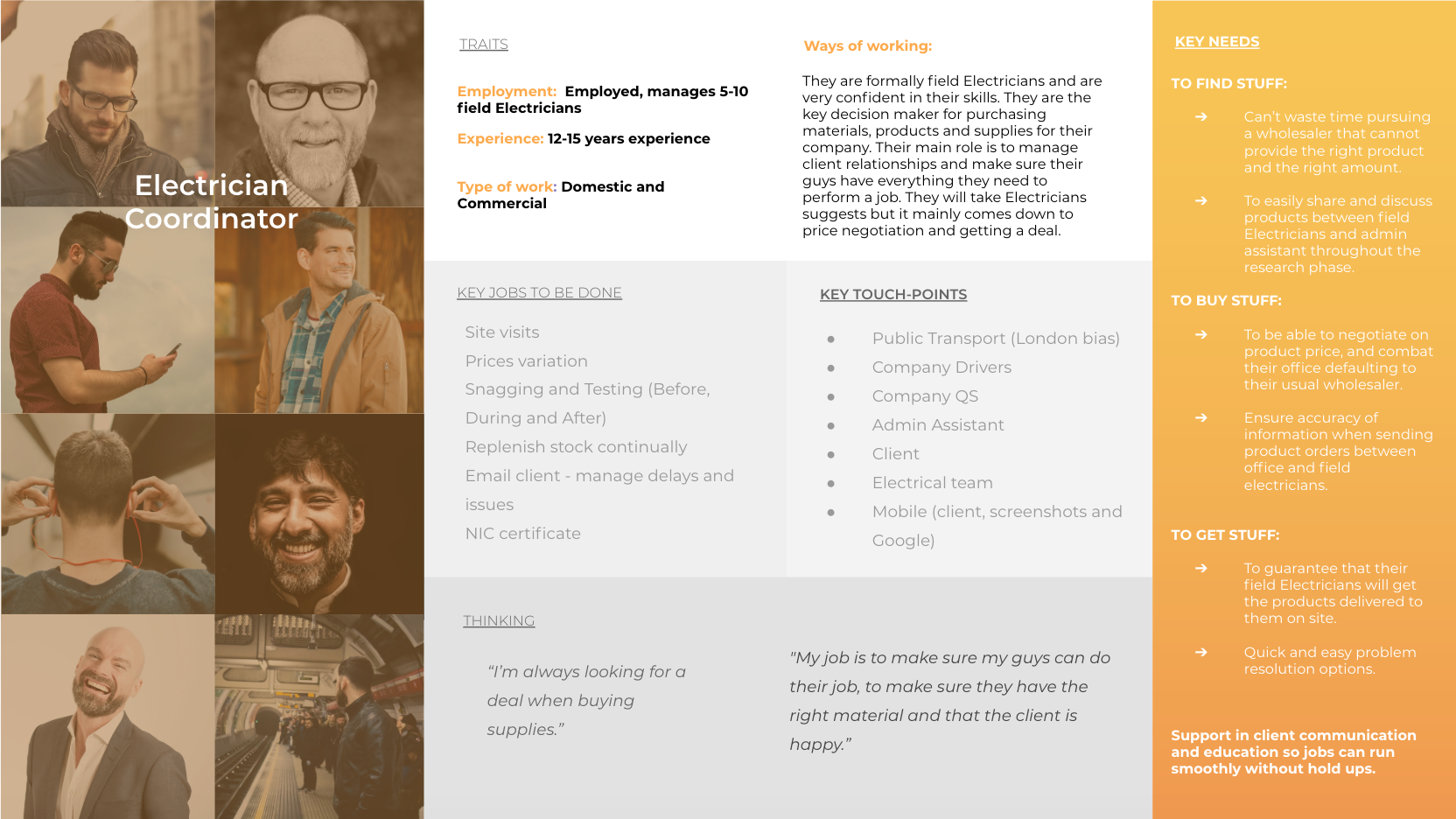 Research to concepts
Turning insight into tactical reality
We ran a series of workshops with our stakeholders to present our research and to understand their business objectives against this new found insight. We had deemed some findings as "quick wins" and they could be actioned immediately - this included a website refresh that Spotless also helped to kick-start and up-skill the internal Electrical Direct team.
Our co-creation workshops were attended by both stakeholders from across the business, as well as their target customers. To prep for co-creation, we turned each of our 6 insights into 'How might we' statements, which reframed them into provocative questions that were much easier to think of ideas and solutions for. We ran a series of activities to conceptualise new solutions to these problems and came out of the sessions with 410 individual ideas. Each varied from small new features to large revolutionary business changes, ie;
Physical electrical meet-ups around the UK

Knowledge sharing and UGC online

Tools to help them interact with clients and conduct business best practice
My colleague and I took all the ideas and synthesised them down into 27 potential initiatives, grouping similar ideas and features into groups of work. This allowed us to work with a more manageable amount of ideas, of which we prioritised with our stakeholders onto the below "revolutionary matrix" inline with their business objectives and capabilities.
Future-state experience
Implementing a new service experience and website refresh
Through prioritising these initiatives, it gave us a select few that where both viable to the business and desirable to the customer. We took these initiatives and created a future-state storyboard to help communicate to senior stakeholders what the future Electrical Direct service experience could be.
A paid membership Electrical Direct experience offering progressive tools for free and paid members. These tools support them in their work and create Electrical Direct advocates.
Spotless and Electrical Direct are still working together to bring this experience to life, by conducting rapid prototyping cycles with electricians. I am personally working with Electrical Direct on their website refresh, across the homepage, PDP, account pages and a new blog. We are working in sprint cycles, helping to up-skill their growing internal UX team and using our internal labs to test each design with their target customers. The testing is helping us ensure the site meets usability needs such as; helping electricians feel reassured about their purchase and plug potential knowledge gaps.